"When you are asked if you can do a job, tell 'em, 'Certainly I can!' Then get busy and find out how to do it."

- Theodore Roosevelt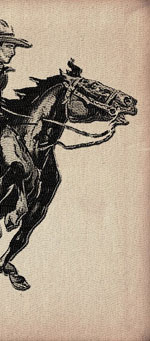 The "GO GET 'EM" President set our credo. Teddy Roosevelt led the charge and got the job done. His indomitable spirit informs what CONSIDER it DONE does for busy people, for those who may need some extra assistance, and for folks who simply don't want to tackle a problem solo.

CONSIDER it DONE provides personal project management for clients who want life to be easier and living less stressful. Our goal is to achieve your goals utilizing organizational skills and qualified assistants to navigate your challenges and solve dilemmas efficiently and compassionately.

What We Do

"Help! I need somebody.
Not just anybody."
- The Beatles


• Problem Solving
• Later Living Decisions
• Compassionate Care Giving
• Aging In-Place Support
• Management Assistance
• Legal - Medical Advocacy
• Foreign Student Coordination
• Business English Tutoring
• Marketing Communication
• Decor - Contractor Oversight
• Household Provisioning
• Residential Moves
• Space Resolution
• Task Planning
• Pet Aid
• Office Organization
• Home Sales Strategy

Why We Do It

"Nothing is so fatiguing as the eternal hanging on of an uncompleted task."
- William James


Contemporary lives are busy, complicated, and often downright burdened. There are so many tasks, large and small, that can overwhelm energy, exhaust personal reserves, and create hurdles not easily surmounted.

Often, there simply isn't time to do the job.

The broad shoulders of CONSIDER it DONE, its spectrum of resources, and an embracing approach aid in removing roadblocks from productive lives.

How We Do It

"Pleasure in the job puts perfection in the work."
- Aristotle


CONSIDER it DONE and the client form a partnership. Together we define the job and the most comfortable way to go about it.

Our team has experience that is seasoned by life. Associates work compassionately and utilize their professional training to affect worthy outcomes.

We work when and where you need us, be it in single sessions or for a project-length task.

Schedules and rates are tailored to each job.